Yes, it's time for me to go into high gear with my baking and other prep for Thanksgiving Day! The holiday always makes me competitive with my favorite frenemy—me! I love to bake and cook, but like so many of us, despite years of success, I go right ahead and worry that this year will mark the one time the bread doesn't rise, the turkey turns tough and the desserts will be left uneaten.
Fortunately, I've been wrong on this score for about twenty-five years and everybody continues to show up at the table on time. And one dish my family and I always count on is my apple pie. I've shared this one before and I'm happy to once again share my take on one of American's  favorite traditional recipes.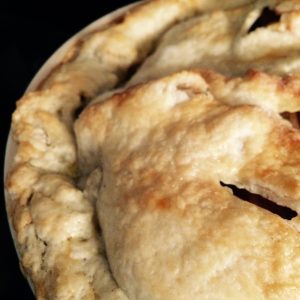 Mary Ellen's Old Town Apple Pie
Filling
8-9 Tart Apples (such as Granny Smith)
½ cup sugar
½ cup brown sugar
1 teaspoon cinnamon
3 tablespoons flour
½ teaspoon salt
2 9-inch pastry crusts
Preheat oven to 425 degrees. Peel and thinly slice apples. In a bowl mix together sugar, cinnamon, flour and sugar. Pour over sliced apples and toss well. Let the mixture sit for about ten minutes. Place pastry crust in a greased pie pan. Drain any excess from apples and place in pastry crust. Cover apples with second pastry crust. Slice four slits or vents in the top pie crust and bake for 15 minutes. Reduce heat to 350 degrees and bake for 35 to 45 minutes.
Pastry Crust
2 ½ cups All Purpose flour
½ teaspoon salt
1 teaspoon white sugar
2 sticks butter, chilled
1/3 cup chilled water
Place flour, sugar and salt in a large bowl. Slice butter into cubes and add to flour mixture. With a pastry blender or two knives, cut butter into flour into it resembles a coarse meal. Add the water and blend with flour-butter mixture. Form into a smooth ball and wrap in cling wrap. Refrigerate for at least one hour before dividing in half and rolling into two crusts.